" I adore jewellery. Right now I took a liking to the outstanding designs of Anna Lubomirska"
Anna Jagodzińska

The art of gold. Liz Taylor had a whole treasury of jewelry and Chanel never left the house without at least one string of pearls. Trinkets ceased to be trinkets long time ago – the most important is the form and the finesse."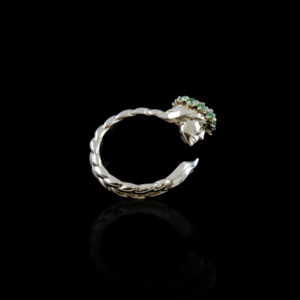 "One can't walk by Anna Lubomirska jewellery indifferently.
It is full of symbolism, references to nature and antiquity".
"Anna Lubomirska's jewellery combines subtlety with rapacity. I add it to my wishlist."
– Anna Zejdler-Ibisz, Editor-In-Chief InStyle Poland.

Editorial news from Germany. The Lamorne Ring is purring gently from the fresh 
cover of the Photographie Magazine, shot by Gerhard Merzeder.

"Fashion is a business and creativity is often limited by its commercial side. Personally, I think that human creativity has no limits, because first of all nobody has defined them yet. The nature itself is a creatively open set. The proof of that is the fact that each one of us as an entity is one of a kind. It is an obvious statement, but at the same time so rarely we realize that wanting to be like someone else. Fashion is based on exactly that – on similarities and trends. It is a long journey though, from an idea to creation and a concept itself is not everything. Creativity is a constant search and learning from your own mistakes, evolution of already existing forms and discovering new ones. There is however such thing as raw classics and purity of form, which are beautiful in themselves, even perfect. The base compiled by generations of creators. I enjoy designing objects that go beyond and develop rigid framework of classical design. Currently, the need for originality is growing, but not always we have enough courage to express it. Being aware of that motivates me to create unusual designs, but at the same time functional. "

"She was to be a painter, was intrigued by sculpture. Until she thought up, that what she imagines 
she can turn into gold. Anna Lubomirska proves that jewellery can be an art."